Altijd op zoek naar kennis en deze willen delen, dat is mijn missie. Interessante onderzoeken, afwijkende meningen of gewoon leuk om te weten. Ik schrijf blogs over de werkende mens in de organisatie die te maken krijgt met gedoe, veranderingen, plezier en overtuigingen.
In deze blog: hoe werkplezier in de praktijk kan werken.
Een leidinggevende bij een groot bouwbedrijf werd in zijn vorige baan als hoogvlieger beschouwd. Toen hij bij zijn huidige werkgever ging werken werd hij binnengehaald als talent. Binnen korte tijd stond hij echter niet meer op de talentenlijst van de CEO en was hij naar eigen zeggen 'een gemiddelde manager.' Hij kon zijn talenten slechts gedeeltelijk kwijt in zijn functie. Hij is iemand van de inhoud, analytisch en houdt ervan dingen uit te vogelen en vooral technische oplossingen te vinden voor complexe problemen. Bij zijn nieuwe baan kreeg hij te maken met verschillende belangen en trage besluitvorming. Vaak kon hij weinig invloed uitoefenen op beslissingen, terwijl hij wel allerlei ideeën had over hoe het anders en beter kon. Hoewel hij zijn werk niet onplezierig vond, kostte het hem vaak veel energie en dacht hij vaak: ik zie het allemaal wel. Nadat hij met mij in traject Psychologie van Werkplezier was gestapt, kreeg hij weer plezier in zijn werk. Als eerste adviseerde ik hem om zijn taken in kaart te brengen in energiegevers en energievreters. Daarna het met die bevindingen het gesprek aan te gaan met zijn manager.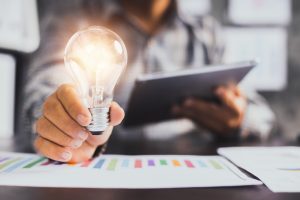 Mentaal Werkplezier ontwikkelen
Het ontwikkelen van werkplezier kan ook een cognitieve insteek hebben. Door anders te kijken naar je werk en er een andere betekenis aangeven, kan het weer beter bij je motivatie aansluiten. Daarbij bevorderen cognitieve activiteiten positieve emoties, die je beleving beïnvloeden.
Taken analyseren
Mentaal naar je taken en werk kijken is een van de mogelijkheden die je hebt wanneer je vastloopt of dreigt vast te lopen. Je kunt jezelf afvragen of datgene wat je doet bijdraagt aan het groter geheel. Zoals de interieur bouwer zijn werk ziet: Door mijn creativiteit en vakmanschap draag ik bij aan het woonplezier van mijn opdrachtgevers. In plaats van: ik bouw een wandkast.